Is Power BI something you'd like to pursue professionally?
If yes! Here's the blog for you.
In this blog, we'll discuss how Power BI will change the future, what are the career opportunities for BI-skilled professionals, and much more. So stay tuned to find exciting facts and helpful information about Power BI.
Before we do that, let's find out what Power BI is.
What is Power BI, and why is it important?
The Power BI platform consists of processes, architectures, and technologies that transform raw data into meaningful and informative content that drives profitable business actions. Rather than relying on assumptions, it utilizes historical data to support fact-based and logical decision-making. Therefore, most firms use BI tools to visualize the data. Because companies are switching to these tools, demand for Power BI professionals is automatically rising.
Is Power BI a good career choice?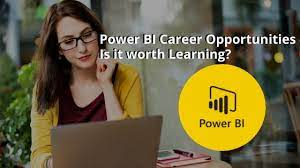 Firms are rushing to adopt technologies that enable them to visualize data in real-time and gain meaningful insights as business operations become increasingly complex.
Power BI professionals can be found in nearly every industry, including software, retail, healthcare, etc. Those who are still uncertain whether this is a good career option or not can go ahead with it. In addition to data analysts, you can also apply for various other positions such as
Power BI Project Manager
Power BI Developer
SQL Server Power BI Developer
Power BI Semantic Model Developer
Power BI Administrator
Power BI Manager
Power BI Consultant
What are the responsibilities and roles of Power BI developers?
Following are the main roles and responsibilities of a Power BI developer.
Create custom Power BI visuals
Use embedded analytics, such as Power BI service or API automation, to integrate Power BI reports with other applications.
Prototyping, designing, and requirement analysis skills are required.
Develop data models according to business requirements
Prepare project documentation and design methodologies.
Create warehouse standard tabular and multidimensional models
Models for analysis services reporting
Transform raw data into informative visuals and reports,
Understand the application security layer
DAX queries can be built on the Power BI desktop.
Power BI: Demand and Future Scope
As one of the best cloud-based data visualization tools, Power BI has become a favourite in the business world and is unlikely to disappear anytime soon. Further, it is a product of Microsoft, which has already launched several products that are ruling the market worldwide. Finally, because Power BI is a cloud-based tool, businesses slowly move towards cloud platforms and remove their on-premise work environments.
Thus, we can confidently say that Power BI has a bright future and that those considering a career in this area can do so with confidence.
Who are the major companies hiring Power BI professionals?
Infosys Limited
Accenture
IBM Global Services
TCS
Capgemini
HCL Technologies
Hexaware Technologies
Cognizant Technology
Wipro Technologies Ltd
What is the average salary for different Power BI job roles?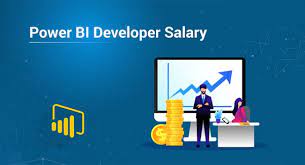 The use of Power BI may differ from company to company so that one can choose the right company based on its job description. A career in Power BI can be assessed by looking at the average salary of Power BI professionals at different designations.
Here is a table listing the various designations of Power BI freshers and their average salaries.
| | |
| --- | --- |
| Profile | Average salary per annum |
| Data Analyst | ₹4.25 LPA |
| Business Intelligence (BI) Developer | ₹4.83 LPA |
| Software Engineer | ₹4.51 LPA |
| Software Developer | ₹6 LPA |
| Business Intelligence (BI) Analyst | ₹5.50 LPA |
| Reporting Analyst | ₹5.89 LPA |
| Analytics Consultant | ₹8.43 LPA |
Source: https://www.wallstreetmojo.com/power-bi-career/
Source: https://www.payscale.com/research/IN/Skill=Microsoft_Power_BI/Salary
The future of Power BI
Gartner's Magic Quadrant 2019 Business Intelligence places Power BI in the "Leader" quadrant.
As a result, it proved to be a highly effective tool, providing users with many different tools such as Power Maps, Power Query, Power Pivot, and Power View in a single solution.
In addition, Power BI users can transform and visualize data in Microsoft Excel.
In terms of the scope of Power BI for the next few years, it will continue to be a competitive BI tool among its competitors like Tableau, Qlik Sense, etc.
It is always possible to pursue a career in Power BI if you enjoy working with data, creating graphs/charts/visualizations, analyzing reports, discovering insights, etc.
The Power BI tool has approximately a million users worldwide, making it a good career choice if you plan to work as a Power BI Developer, Power BI Administrator, Power BI Analyst, or Power BI Consultant.
How easy is it to learn Power BI?
Some types of Power BI integrations are difficult to understand, and data lakes can be a bit challenging. Enrol in our Power BI course for an easier way to learn Power BI. We have experts who design the curriculum according to industry needs.
Final Verdict:
Power BI jobs are plentiful in the market, whether you are a fresher or an experienced professional. You just have to grab the opportunities with your talents and skills. We've come to the end of our Power BI career discussion. Hope the information provided helped you make a good career decision.
---